We understand that when a computer breaks, you need it fixed now. A broken computer means a loss in productivity in your workplace or residence. We know you do not have time to drop your computer off somewhere and wait for a long time. You also do not have time to wait to schedule service for us to come out and repair your machine because let's face it, you want your computer working now.
That's why we offer remote support!
As long as you have high speed Internet, we can connect to your computer remotely while you sit at the comfort of your own desk and allow us to fix your problem(s). All you have to do is download a small program called TeamViewer, install it, and fill out the form and we will connect to you and get you back up and running in no time. The cost for this service is $65 an hour and most issues can be resolved in an hour or under. There is a 1 hour minimum charge.
The first thing that you need to do, is download the program that allows us to connect to you. This program is called TeamViewer. This is a small application that is trusted by more than 100 million users for remote access.
Team Viewer
Download the software here directly from the TeamViewer developers. We do not host this file to ensure the version you download is the most up to date version. 
Once you click the link, scroll down and select QuickSupport from the TeamViewer page to download the QS.exe app to your computer.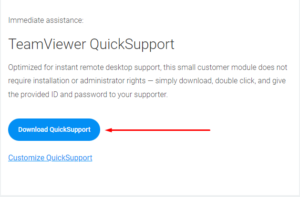 Download QuickSupport